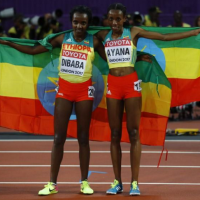 Reuters – Ethiopian Almaz Ayana destroyed the field to win the 10,000 metres at the World Championships on Saturday, finishing around 300 metres clear of her rivals in her first race of an injury-plagued season. The Olympic...
Continue reading →
The Guardian: Tewodros Kassahun's manager meets me on a quiet suburban road inside a gated compound. With their neoclassical mansions, manicured lawns and white picket fences, compounds such as this are a rarity in Ethiopia's...
Continue reading →
Teddy Afro the most famous artists in Ethiopia released his new album with new single 'Ethiopia' song. The full album is now available on the market. Please visit your local Ethiopian store of download from online.
Continue reading →
Teddy Afro Official Facebook Page
Latest Videos