Teddy meets his youngest fans!!!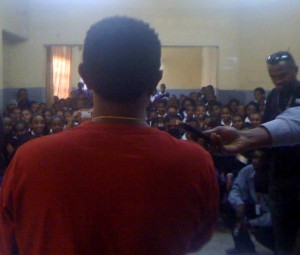 Teddy Afro made a visit to his old elementary school, Bethlehem. He was warmly greeted by the principal of the school and his old teachers.
Teddy s youngest fans that rarely get to see the artist were so excited with his presence and asked many questions. The students asked the singer about his childhood, his music and what it takes to make it in the music industry.
Teddy Afro spoke about the importance of education and the answers he gave to the questions were both sincere and enlightening. Teddy also promised to give five computers and different musical instruments to his old school.
It was an exciting event with different local and international Medias covering the story; China based television station CCTV and VOA were among those present.