The Superstar and the Legend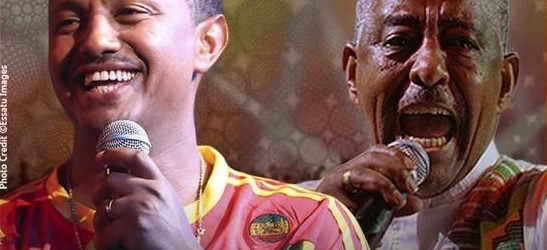 One of the greatest concert collaboration in Ethiopian music history will happen on July 5, 2013. The Legendary Mahmoud Ahmed and the Superstar Teddy Afro will perform for the first time in Washington DC.
It's a rare phenomenon seeing two extraordinary musical talents on one night and on one stage. Mahmoud, the indomitable ageless voice of Ethiopian music; the bearer of the Ethiopian Soul and Psyche; an artist with no valley to his career. Teddy Afro, the Hally's Comet in Ethiopian Music scene; young and irrepressible, poet, lyricist, composer and recording artist. These two artists are ages apart yet the gods of music locks them in an inescapable unity; they are the product of the same fertile artistic soil–their understanding of the Ethiopian pulse.
What is more extraordinary is the occasion of their union. The 30th anniversary of the Ethiopian Sports Federation in North America (ESFNA) at the University of Maryland from June 30 – July 6, 2013. It's customary for musicians of all levels to flock to this annual week-long soccer and cultural tournament. However, the kind of collaboration between Mahmoud and Teddy Afro is a once-in-a-blue-moon phenomenon. It's the single most anticipated musical concert of the year by the Ethiopian community in North America. It's an added value to ESFNA's 30th anniversary tournament.
The site chosen for he occasion is at ECOSTAGE–Washington DC's largest concert venue.
Presented By: KMF Entertainment
Location: 2135 Queens Chapel Road NE
Washington, DC 20018
202-503-2330
Doors open at 9:00PM