On the Ethiopian Version of the World Cup Anthem. Over the past months, we have been under intense pressures with flooding requests to reveal our positions regarding the relationship that exist between Coca Cola and the widely...
Continue reading →
Due to unforeseen circumstances, we regret to inform you that, the upcoming concert of Teddy Afro in Washington, D.C. on Sunday May 25th 2014 will be postponed to a later date. The concert will be rescheduled and the new date...
Continue reading →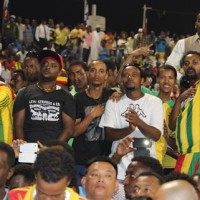 Teddy Afro performed at the 2014 Doha Diamond League for the second year in a row. The Ethiopian super star Tedddy sung his sensational songs on the opening ceremony of the event. It was a successful show. Several thousands of...
Continue reading →
Teddy Afro Official Facebook Page
Latest Videos