Slideshow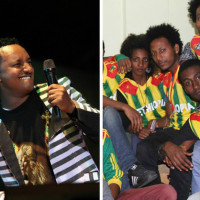 New York (TADIAS) — Ethiopian pop superstar Teddy Afro and the Addis Ababa-based dance crew, Hahu (winners of 2011 Ethiopian Idol), will perform at this year's SummerStage in New York on July 5th. The free outdoor concert is...
Continue reading →
Few of our 'Wode Fikir Guzo' shows has been canceled due to work permit didn't complete on time table promised to us. Finally we have received work permission and the shows will continue as scheduled starting...
Continue reading →
ሰኔ ግንቦት 23 2006  አለአግባብ እንዳይለቀቅ በተደረገው የዓለም ዋንጫ የኢትዮጵያው ቅጂ ሙዚቃ አስመልክቶ ያለንን አቋም በመግልፅ መግለጫ...
Continue reading →
Teddy Afro Official Facebook Page
Latest Albums